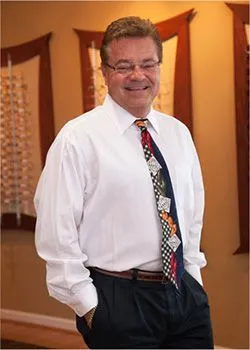 Doctor Phillip Tart attended UNC Chapel Hill and graduated from the Southern College of Optometry in Memphis. He's been practicing Optometry for more than 30 years. He brought his skills to Coastal Carolina after working with one of the largest practices in the Raleigh area. Dr. Tart opened an office in Hampstead, NC in 2002, an office in Surf City in 2009, and moved into Primary Vision Care Center's new building in 2012.
"We care for you, not just your eyes!"
Dr. Tart is an optometrist in Surf City providing complete eye care services for the surrounding communities.
As a licensed optometrist, Dr. Tart provides exams, and treatments of all disorders that affect the eye or vision. In addition to training in eye diseases and disorders, Dr. Tart is also trained in anatomy, biochemistry, and physiology. With this background, Dr. Tart is trained to recognize a range of health issues; such as glaucoma, macular degeneration, diabetes, hypertension and other medical issues. Dr. Tart works hard to stay current on the latest advances in eye health and vision care and regularly attends continuing education seminars and advanced training courses. It is because of Dr. Tart 's dedication to continuing education that patients are able receive the most modern and progressive vision care available.